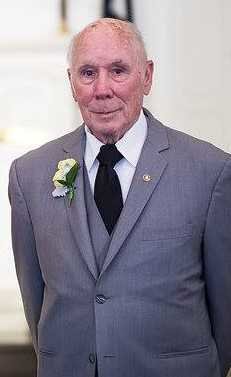 Obituary of Steven Franklin Kerchner
Steven Franklin Kerchner, lately of Flint Hill, VA passed away peacefully on November 18, 2020 after a long term illness surrounded by his loving family at Capital Caring Health Halquist Hospice Center in Arlington, VA.
Steven was born August 5, 1938 in Allentown, PA where he attended Liberty High School. Graduating in 1956, he joined the Air Force and was sent to MoD Air Force Base Sculthorpe in Norfolk, England. He continued his Air Force career in Delaware, at the same time studying business at the University of Delaware, until moving to Virginia. After serving his country as an Airman for eleven years, and receiving an honorable discharge, he continued in his service with the Army for a further eleven years. During this time, he was honored with a four year assignment in the Johnson Administration White House. He served a tour of duty both in Korea and Vietnam where he received the Bronze Star. Having achieved the rank of Chief Warrant Officer 3, he retired in 1977. Following his military career, Steven worked for The George Washington University. He finished his career with the Manufacturer's Alliance of Productivity and Innovation in Arlington, VA as Director of Administrative Services and Conference Planning after 24 years. Steven was a proud patriot who loved his country deeply. He was a member of the Sons of the American Revolution and the 1600 Communication Association. He loved his scotch, blueberry muffins and especially cheering on the Clemson Tigers.
Steven is preceded in death by his parents, Oscar and Louisa. He is survived by his 3 children, Rebecca Kerchner of Helsinki Finland, Adrienne Kerchner (Scott Johnson) of Raleigh, NC and Steven Kerchner II (Ashleigh Chevalier) of Fairfax, VA. Steven is also survived by his brother David Kerchner of Quarryville, PA, his sister Barbara Pierce (Hub) of New Tripoli, PA, and his sister Kathleen Stephen of Bethlehem, PA. Along with many nieces and nephews, he also leaves behind three grandchildren and two great grandchildren.
Graveside services with military honors will take place at Arlington National Cemetery at a date to be determined.
In lieu of flowers, donations may be made to the Alzheimer's Association. Also, we wish to give a special thank you to Walter Reed Army Medical Center and the hospice staff at Capital Caring Halquist who cared for Steven.
Military Graveside Services
Graveside services with military honors will take place at Arlington National Cemetery at a date to be determined.
Share Your Memory of
Steven
Adams-Green Funeral Home & Crematory
721 Elden Street | Herndon, VA 20170
P: (703) 437-1764 or (703) 471-4090 | E: chris@adamsgreen.com