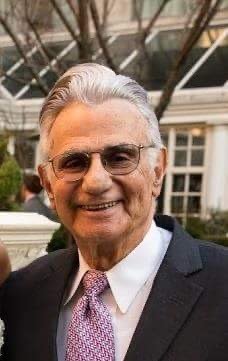 Obituary of Albert George Carchedi
Albert George (Bitz) Carchedi, 89, died of natural causes on August 9, 2020 at home with his loving wife and companion of 40 years, Sherry Stephenson.
Albert was born in Washington DC on January 24, 1931. Known as "Bitz" to his family, Albert was the youngest child of Francesco and Rosina (DiRenzo) Carchedi of Utica, New York.
Albert helped in his father's shoe repair business in Rosalyn, VA, as a teen and learned to be a competent cobbler. His father accepted nothing less than perfection, and Al proudly said that one day his father nodded his head in approval after he completed repairs for a particularly demanding customer. High praise indeed. He served two years in the Army, stationed at Fort Belvoir as a Staff Sargent, during the Korean Conflict period. After his discharge, with a new family to feed, he threw himself into the insurance business. He worked long hours, both days and evenings. He was always home for dinner, before going back out to collect weekly premiums door to door. This type of work was considered high risk due to the premiums being paid in cash, but his genuine kindness and honesty with his clients afforded him a level of neighborhood protection provided by the clients themselves. He learned the business and became a respected partner of major insurance firms for the next 50 years. He retired from Koch Insurance Agency with a CPCU, (Chartered Property Casualty Underwriter),This professional achievement, combined with his years of experience in the Insurance industry presented him with the post "retirement" opportunity to conduct classes for new insurance agents. This opportunity to share his years of experience was a source of great satisfaction.
Albert was predeceased by his older brothers; Anthony in 1960, Arthur (Erma Brown) in 2019 and Alfred (Babe) in 2015. Albert was also predeceased by his wife (married in 1951), Doris Caruso Carchedi, who died in 1981of cancer.
Albert is survived by his three daughters from his union with Doris; Gloria Browne of Baltimore, Md, Toni Marie Carchedi Cox (Robert) of Chincoteague, VA, and Louise Diane Carchedi George of Leland, NC.
He is also survived by his beloved companion and wife Sherry Stephenson and her children Thomas Hickley (Michelle Carter) and Sarah Fri (Perry), whom he counted as his own. He enjoyed 6 Grandchildren, and 2 Great Grandchildren.
Al was known by friends and family as a hard worker, devoted to family, and a loyal friend. His kindness and quick wit will be missed by those who were fortunate enough to have known him. His stubborn will to live and his ever present humor were still evident to the end of his life here on earth. The family celebrates that the Brothers are back together again, laughing and playing music - at various levels of competence; Art being the virtuoso, Babe playing the trumpet, and Bitz squeaking out the clarinet. Along with extended family, Frank Condatore (2005), who's Big Band The Frankie Condon Orchestra and Al's many friends who went before him, there is surely a joyful noise playing somewhere, and lots of laughter.
There are no plans for a memorial at this time. The family requests privacy during this difficult time.
Share Your Memory of
Albert
Adams-Green Funeral Home & Crematory
721 Elden Street | Herndon, VA 20170
P: (703) 437-1764 or (703) 471-4090 | E: chris@adamsgreen.com