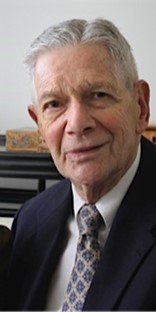 Obituary of Lawrence Howard Dolgoff
Lawrence (Larry) Dolgoff passed away on October 26, 2020 in Potomac Falls, VA. He was born on February 15, 1930 in Brooklyn, NY, to Morris and Lilyan Dolgoff. Morris was a U.S. Mailman and Lilyan was a homemaker. They had two sons, Lawrence and his younger brother Jordan.
Growing up in Crown Heights, he attended the prestigious Brooklyn Technical High School where he graduated number one in his class. After 2 years at City College of New York (CCNY), Larry hitchhiked out to California to join his family who had relocated to Oakland, and earned his Bachelor of Science in Civil Engineering from the University of California, Berkeley. He was also in the inaugural Master of Business Administration program at Berkeley where he won the coveted Standard Oil cash award for the number one student in the class. His first job out of college was as a civil engineer for Alameda County, but then war broke out on the Korean Peninsula. Larry immediately volunteered and went with the first service that offered him a commission, the United States Coast Guard. He served for three years during the Korean War and rose to the rank of Lieutenant Commander. Upon completion of his time in service, Larry took a job in the finance department with Litton Industries.
Larry met his future wife, Elaine, through mutual friends and it was love at first sight. After a whirlwind seven-week courtship, they were married in 1960. Larry and Elaine both wanted to travel the world so Larry switched career paths and passed the highly competitive Foreign Service Exam. Larry served as a Diplomat in the Foreign Service for twenty-five plus years, with overseas assignments in Ghana, Hong Kong, Indonesia, Pakistan, Japan, Germany and the Philippines. In 1984, Larry and Elaine moved back to the U.S. and settled down in Reston, VA where he had his final assignment as the Finance Officer of the Nicaraguan Humanitarian Assistance Office. He officially retired in 1987 but remained in the job until 1991. After retirement, Larry and Elaine continued to travel and relocated to Falcons Landing Military Retirement Community in 2012, where they continued their service as volunteers to the community.
Larry's family was his first love. He was blessed with a curious mind, the desire to learn and understand, and the generosity to teach and help, to the great benefit of his children, grandchildren, family and friends. He was meticulous with what he did, took pride in his attention to detail and the quality of his work, and had the gift of keeping things simple. Larry had many sayings and perhaps none of these epitomized him more than one of his favorites "The finest eloquence is that which gets things done." Greatly loved by those who mattered to him the most, his family, he showed them that a hero isn't about being loud and flashy, but a hero is someone who makes a conscious decision to live an ordinary life extraordinarily well. Being helpful gave him great joy, and one of the most powerful examples he set for all of us was to find pleasure and happiness in the everyday simple things in life. His advice to never be greedy was best illustrated by a story he liked to share – three graduates were originally named for that Standard Oil prize, but when Larry suggested they split it three ways, the other two declined and Larry was ultimately selected as the winner.
Larry is survived by his wife of 60 years, Elaine, their three sons, Scott and his wife Dede, Todd, Ross and his wife Jill, and their six beloved grandchildren, George, Henry, Katie, Harrison, Alyssa and Hayes.
Share Your Memory of
Lawrence
Adams-Green Funeral Home & Crematory
721 Elden Street | Herndon, VA 20170
P: (703) 437-1764 or (703) 471-4090 | E: chris@adamsgreen.com